Custom Cash Payout
Custom Cash Payout
Custom Cash Payout is a raffle ticket styled game where you buy 1 - 20 tickets and reveal all the tickets available at once to see if your purchased ticket holds a prize for you. There is also a Match and Win bonus game that you can play if you win on the bonus ticket.
Top Prize: $20,000
Ticket Cost: $0.50 - $2.00
Odds: 1 in 3.27
Bonus Seekers: 1 in 23.94
Custom Cash Payout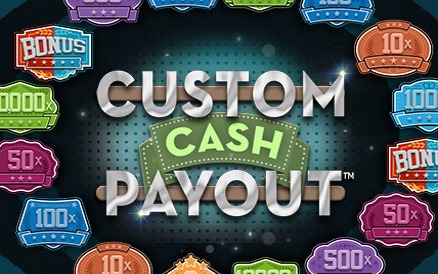 How to Play
The first thing you need to do is decide how many tickets you would like to buy, and how much you are willing to pay for them. Then you need to pick the way you would like to play. Here, you have four options that will be assigned to the tickets you are going to purchase: Bonus Seeker, High Odds, Low Odds, Random. You can change these adjustments at any time by altering the settings in the right-hand side menu. You then press "PLAY" to confirm your settings and play the game.
Settings
Bonus Seeker - Gives bonus prizes only
High Odds - High and medium prizes only
Low Odds - Medium and low prizes only
Random - Random prizes are chosen

Press "REVEAL" when you are ready to see if your purchased tickets have won you any prizes. The number "7" wins it and can occur on any number of the tickets in play. You will win whatever prize is shown on that winning ticket.
Match and Win Bonus
Revealing a "7" on the bonus ticket enters you into the Match and Win Bonus game. This always guarantees a prize.
Simply pick your winning icon and play to see if you can win on this bonus game.
The icons have a shape, color and number. Pressing "GO" reveals three icons which you need to match up to your winning icon.
If your winning icon matches either a shape, color or number of any of the three icons revealed then one section of the prize meter will light up.
Light up the whole prize meter to win the prize.
Revealing a perfect match symbol will win a perfect prize and light up one section of the prize meter.
What We Thought
After you get to know where all the controls are this game is compelling to play, with the option of winning quite often making Custom Cash Payout an appealing game to play. It is good to be in total control of how much you would like to spend on tickets, and how many you would like to purchase after each game. It was also exciting to be able to change the prize levels attached to tickets either higher, lower, to random or bonus seeker. Play is quick but can be extended if you are lucky enough to hit a Match and Win Bonus game. All in all, this is a game where you can build prize money slowly, but surely, so long as luck is on your side!