Fruity Cashword
Fruity Cashword
Fruity Cashword is a word game that offers prize money based on matching letters and words to what your random letter selection is for the round. The board of play is like a word search puzzle with a particular letter blocked out by fruit.
Top Prize: $150,000
Ticket Cost: $0.25 - $5.00
Odds: 1 in 3.28
Fruity Cashword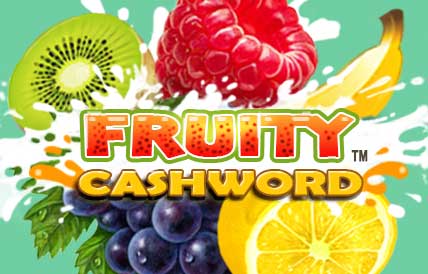 How to Play
Firstly, players need to set the value of their bets, which can be altered before any new game.
On the left-hand side of the board is a selection of fruit pieces which cover specific letters. Players then get to choose and uncover these pieces of fruit to reveal random letters and hope that they are featured on the main playing board, where you need at least three words to win a prize.
You can either click through and uncover the letters on the left one by one or skip forward and uncover them all in one go. The game will then go through all the existing words on the board and highlight any winning words that can be formed with the letters on the left.
If you get a winning word on the board that includes a piece of fruit then you get to go through to a bonus round! On this round, you have to select pieces of fruit from a tree until you match up three pieces of the same value, which is the multiplier number of your initial prize.
What We Thought
Overall, Fruit Cashword is a fun game where your choice of fruit-picked determines your level of prize, so it is very engaging working out the words and keeps play interesting. There is a nice level of interaction offered in this game, especially in the bonus fruit round, where players must pick 3 matching fruits from the prize fruit tree in order to win a multiplier number for the round, which is a pretty cool way of boosting your prize money for the round.